Yesterday we arrived back home from a family vacation to Arizona to see Nana & Papa (Kim's parents). We had a really great time. We flew there and back, and Charlie did great. He enjoyed looking out the window of the plane, and "reading" the emergency preparedness card over and over and over! It was hot in Arizona, but the dry air makes it feel bearable. We were in the Sonora Dessert area, a short drive south of Tuscon in a town called Sahuarita. Nana and Papa have a beautiful veiw of the Santa Rita Mountain range. The valley is very green, surrounded by mountains on all sides. It was not a dessert like in Nevada. It was dry, but filled with mesquite trees, cactus, and other native plants. We had a great time taking walks in the early morning and looking at all the beautiful dessert vegetation. We also came across Jack Rabbits, Road Runners, Quail, and even a lonely Coyote. Very different from the Pacific Northwest, but equally as beautiful and interesting.
Here are a few shots of the wildlife we saw at the Tucson Desert Museum.
Coyote
Javalinas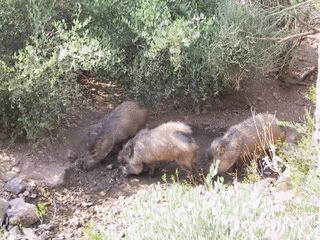 Mexican Wolf
Here's Daddy and Charlie enjoying the heat at the Museum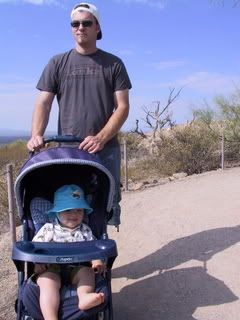 Here's a few pics of our time at Nana & Papa's house
Nana and her boy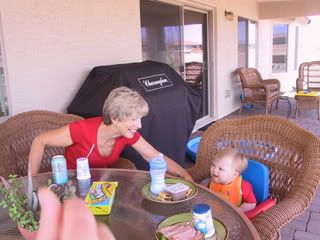 Prickly Pear Cactus we saw on our morning walk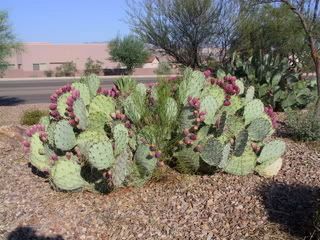 A Saguaro Cactus and the Santa Rita Mountains - beautiful view on our morning walk.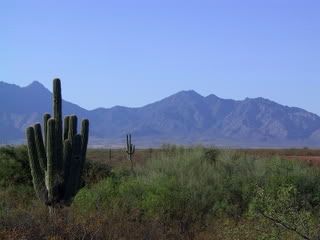 Our Little Family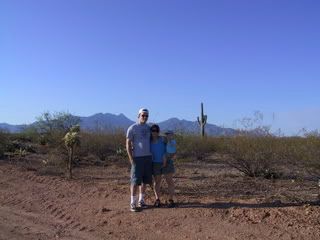 Wearing Papa's hat
Reading with Papa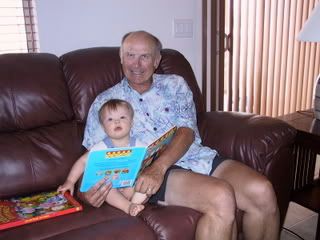 Cooling off