Our baby is TWO today! I cannot believe how the time has gone by. It really does not feel like two years.
Charlie is so amazing. Anyone who knows him will agree. These two years with our sweet boy have been such a gift. Did you know that we start every day with huge smiles on our faces? You know why? That is literally what we see when we first open our eyes. We see Charlie grinning at us from ear to ear every morning when we wake up. It is wonderful!
Charlie has accomplished so much. He has grown so much in the last year. Lets see...
He has gained 1 pound--not a lot, but most his growing this year has been up. He really looks like a little boy now instead of that cute, chubby baby he still was at this time last year.
He has grown several inches. Not sure just how many. We will find out at his 2 year old check-up next week.
Charlie got 10 new teeth since he turned one, including 4 molars!
He learned to crawl last March.
He has learned to sign many words (we've lost count!)
He has learned how to say many words (vocabulary is growing every day! The newest words are "help," "open," "up," and "in")
He made many friends.
Charlie stopped nursing at night time last Spring.
He started eating solids and drinking from a straw in the Summer after months and months of struggling to catch on.
He can cruise furniture and walk with a walking toy.
Charlie can stack blocks, he can help clean up, he can paint and color, he can dance, and SO MUCH MORE!
What a year! I am so excited to see what is in store for Charlie this year!
Here are a few 'then and now' pictures of our big boy:
Here is Charlie when he was one day old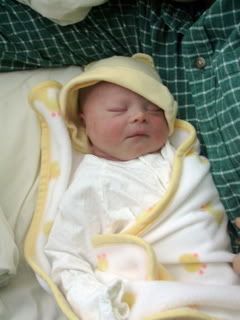 Here's our boy at 9 weeks old on the day he first started to smile. This is one of my favorite pictures because it was during the time we were waiting to learn if Charlie had Down Syndrome or not. It was such a hard time for Ray and I, and Charlie totally blessed us with his precious smile. It was just what we needed to know that everything was going to be okay.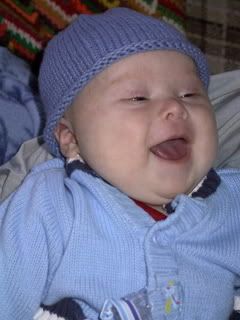 Here is a picture of our big Two year old we took this morning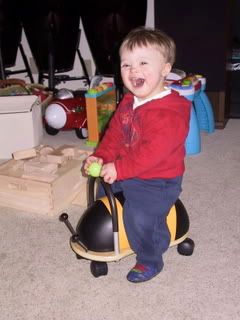 I think this is a pretty ferocious face, don't you? Grrr!!!