Well, it seems I am getting a little behind in my blogging. Our Christmas this year was wonderful. We were so glad to have a visit from Nana and Papa and Auntie Kelly. Charlie had a bad cold and a cough, and was sort of a lump of a guy attached to mommy for the first few days.
After Nana, Papa, and Auntie left, we enjoyed having Christmas eve dinner and church service with Ray's family here. We met up with the whole gang again at our house Christmas morning. We had a delicious Christmas breakfast, everyone pitched in to make their specialty. Raymond made his wonderful buttermilk biscuits cut out with Christmas cookie cutters. Charlie was feeling much better by Christmas day, and was happy to open some presents and watch the model trains go around the tree and living room.
Charlie received a few gifts that he is REALLY excited about. He received three new Signing Time DVD's that he is CRAZY about! Several times a day he crawls over to the entertainment center and signs that he wants to watch signing time. He received a toddler size table from Nana and Papa, and art supplies from Uncle Russell and Renee. He is loving finger paining and coloring with his new fancy markers and note pad.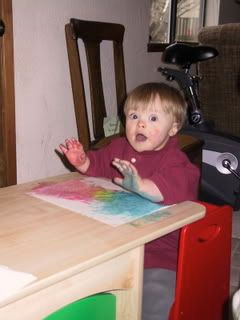 Last, but certainly not least, Auntie Kelly gave Charlie "Hokey Pokey Elmo." First, Charlie has fallen in love with Elmo in the last few months. When I was going to school last semester I found it helpful to turn the TV on for a few minutes after breakfast to occupy Charlie while I made his lunch and got stuff together. It happened that we always finished breakfast right about the time Elmo's segment came on Sesame Street. So now he is head over heals for Elmo. He dances and laughs when the segment comes on. He can even say "Elmo."
As you can imagine, he is a little excited about being the proud new owner of his very own Elmo doll! He LOVES his Elmo. Elmo sings and dances the Hokey Pokey, but rarely gets to finish his dance before Charlie grabs him for a hug. Thanks you Auntie Kelly!