Nana and Papa came to visit, and it was so fun! Charlie and Calvin both had a great time playing with Papa and Nana. Mommy and Daddy really appreciated the extra help. My parents are the most excellent house guests you ever did know. My mom helped me with many projects while they were here. She even did all my sewing I needed to do. Thanks mom! Here are a couple of photos of their time with the boys.
Nana reading to Charlie.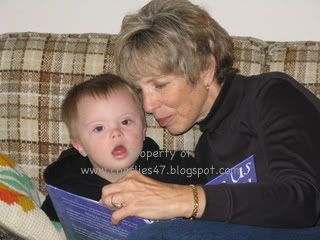 Papa and Calvin.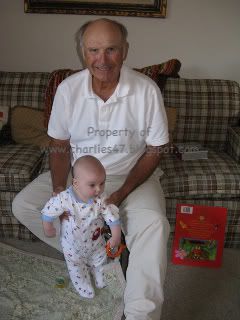 One special thing we did while Nana and Papa were in town was to dedicate Calvin at church. In our faith we don't baptize babies. In fact, a baby dedication is more for the parents and the congregation than the baby. In a baby dedication the parents and the congregation commit to raising the child in the gentle love and protection of Jesus. We pledge to raise Calvin up in the ways of Christ, and to value his life as Jesus did for 'the least of these.' It was a special moment, and brought back memories of Charlie's dedication two years ago.
Calvin's Dedication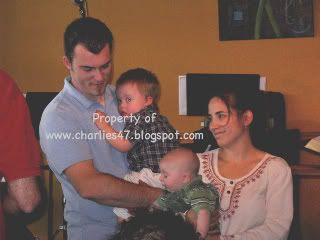 A sweet moment.
After the service:
My folks, Ray's folks, us, and my sister-in-law-to-be Renee.