Saturday was our third year at the Buddy Walk! We had a great time. Many friends and family came out to help celebrate Charlie, and all our friends in the community who have Down Syndrome. This was the first year Charlie was able to walk at the Buddy Walk. This was also my first year helping out. I had called the event organizer to ask if we could help with set-up or tear-down, and instead she asked me to share a few encouraging words about Charlie! I will admit, I was a bit nervous, but really, sharing about my kids comes WAY to easy to me!LOL I could go on and on. This is in essence what I shared with the crowd:
Charlie was 2 months old when we learned he had Down Syndrome. I remember the doctor telling me the diagnosis over the phone. I asked him, "what do we do now?" His answer was, "Just keep doing what you are doing." And, that is what we did.

Charlie is a natural part of our community. He fits right in. He has many friends in preschool and playgroup. When we walk into his classroom, many of the children go out of their way to great Charlie. When we are in the supermarket, the checkers know him by name, and they know he gets to be in charge of the receipt. At church, people stop what they are doing to come over and say "hi" to Charlie and Calvin. Charlie is able to define his relationships with other, and he is accepted just for who he is.

When my husband and I found out Charlie had Down Syndrome, we were a little scared. It is Charlie who has shown us that everything is just right they way it is.

Here are a few photo's we snapped at this year's event:
Here is an overwhelmed Charlie. There are FAR to many people at the Buddy Walk for his comfort level. Oh well, by the end he is always having a good time!
Walking with Mommy and Daddy.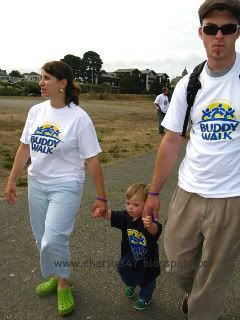 Charlie and his sweet little friend Brooke.
And just for kicks, here is Brooke and Charlie last year.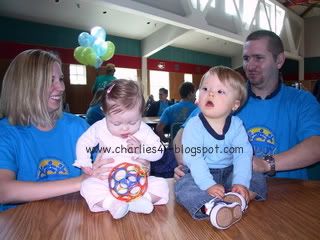 And here is Charlie in 2006 at our first Buddy Walk. Boy, we just can't get a smile out of him at these events.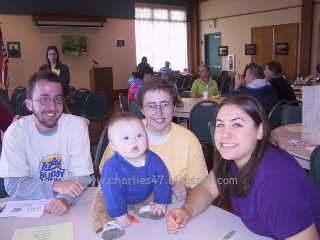 Thank You to our friends and family who came out to support us and to celebrate Charlie. God made Charlie just the way he is, and he is perfect.