One of the best things about our new house is the awesome, ultra kid-friendly yard. Our landlord, Jo, keeps the grass short and lovely, and the Humboldt weather keeps it nice and green. Here are a couple photos of the boys enjoying our beautiful little yard.
Little Calvin enjoying some sunshine. He doesn't stay on that blanket for long!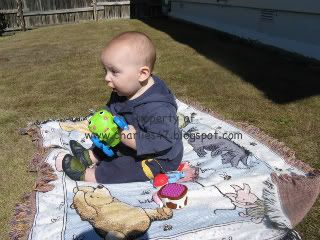 My happy boy, running free.
Charlie on his "ip" (Rocket Ship).