Christmas started with a humble little tree placed high atop the TV cabinet, out of reach of little hands.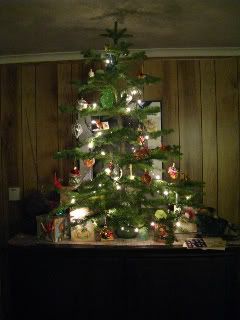 The week before Christmas we had a visit from Nana and Papa,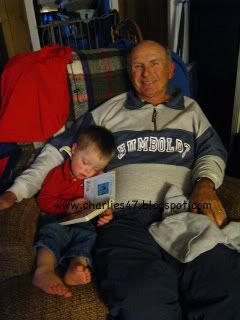 then a sick mama, and then a sick Charlie.
Nana and Papa left to go back to Great Grandma and Grandpa's house in Auburn.
On the 22nd, we celebrated Christmas with Grandpa Rod and Grandma Kathe, Uncle Russ and Aunt Renee, Uncle Ryan and Kassie.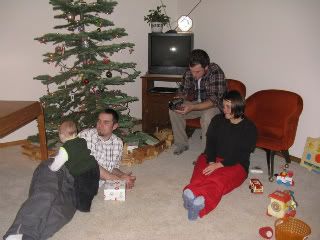 Most the time Charlie felt like this: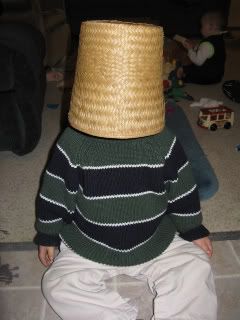 And during presents he did this: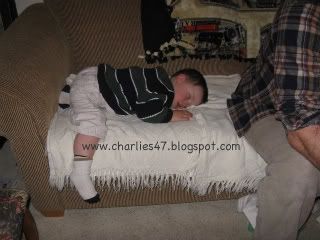 Calvin, on the other hand, was feeling great! He enjoyed his first experience with wrapping paper.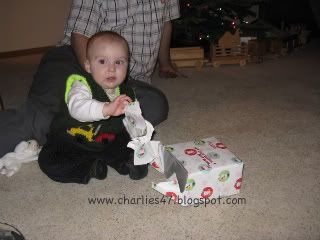 On Christmas Eve day we left in the morning to drive six hours to Great Grandpa and Grandma's house in Auburn. We met back up with Mommy's side of the family there.
Great Grandpa Paul had to spend Christmas in the Skilled Nursing Facility this year. We missed him dearly, but let him have a 'free pass' for his absence. He
is
93 years old, after all!
Charlie was happy to re-unite with his old friend, Kona, the kitty cat.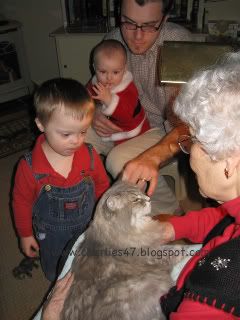 Christmas day was made special with our many family traditions. We had our traditional pizza-sized cinnamon role for breakfast. We sang carols lead by my 'new' Uncle Tim. We gathered around the tree to share gifts with one another.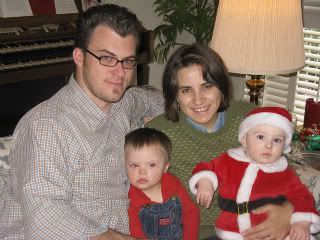 Charlie's favorite was a little Grover doll Auntie Kelly got for Calvin. Calvin was good to share it.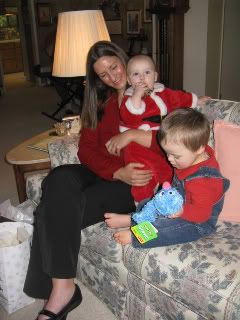 Great Grandma Phyllis shared a sweet gift of a letter she had written to Grandpa on his birthday many, many years ago. We had a special prayer time for my Grandpa. What a testimony his life is even now. A legacy for our family.
After all the excitement and wonderful celebration, Charlie was ready for a nap. But not this guy!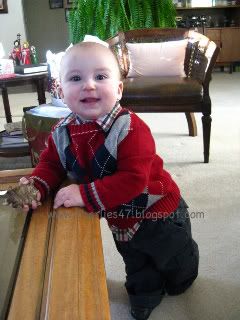 A couple days after Christmas, Daddy, Mommy, Charlie and Calvin made a special trip to the Bay Area to visit Great Grandma Alice.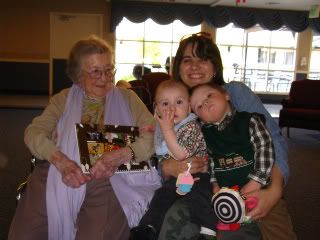 Then back to Auburn to stay with Great Grandma Phyllis, who had by this time come down with the tummy bug that was going around. Despite all the sickness going around this Christmas, it was a blessing to spend time with Mommy's family.
The End