Dear Charlie,
I can hardly believe my sweet baby is 3 years old.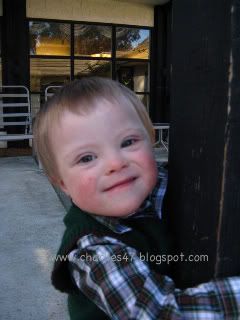 I was just thinking today about how incredible it is to have you in our lives. You've surprised and delighted us from the beginning...
I was finishing up my final week of college when I found out I was pregnant with you. It was an unexpected and sweet gift. I thought about you and prayed for you every day as you grew in my belly. Your daddy and I were so excited to meet you. We could hardly wait.
You surprised us by being born a couple weeks before your due date. You decided to be born on the day of our baby shower. We didn't make it to the party, but everyone came together anyway to pray for you as you made your anticipated arrival.
Baby Charlie, 1 Day Old
You were healthy as healthy can be when you were born. And SO CUTE! You had a round little head, sweet chubby cheeks, and the cutest button nose. All the nurses were stopping in to see the "cute baby" down the hall. The doctor came in after you were born and gave you a thorough exam. He said you were "vigorous" and that you "looked great." We thought so too!
We spent one night in the hospital, and were able to cuddle up together in a special double bed. You nursed, and slept. Daddy changed all your diapers so mommy could rest. We took so much enjoyment in meeting you and learning how to care for you. We were in love.
We took you home the next day with orders to bring you to the audiologist for an appointment. You see, when the nurse gave you the newborn hearing exam, your little ears did not pass. No biggie, though. It's not uncommon.
A few weeks later the results from your hearing test were in. You had hearing loss and would need to have hearing aids. We felt really bad for you. It was not something we expected at all. I cried as I wondered if you had heard my soft singing as I rocked you to sleep. Could you hear your daddy's heart beat as he cuddled you on his chest? We didn't know. It would be 3 and 1/2 more months until your hearing aids would be ready. We felt impatient, and our love and protection grew and grew and grew.
6 Weeks Old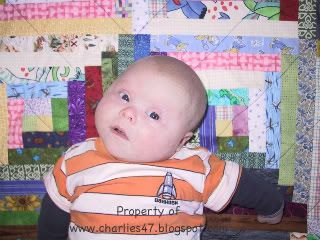 Then the biggest surprise of all. The one that just blows me away whenever I think of it:
You and I were at Dr. Humphrey's office for a check-up. You were 2 months old. What a healthy little boy you were! So cute and chubby. Your eyes were so expressive. Your appetite so good.
I was telling Dr. Humphrey about your hearing loss. It was called a
Bi-lateral Moderate Sensori-neural Hearing Loss
. Fancy terms for both ears having some hearing, but not the full amount. He seemed interested in learning this information as he looked you over. He sat you up. He looked at your sweet little toes. He looked in the palms of your hands. Checked your sweet eyes. He asked me many questions about you, like if you ate well (
YES!
), did you sleep a lot (
I don't know, I've never been a mom before
), were you content (
yes
), had you smiled yet... (
No, not yet
).
Then he said something I'll never forget. He said, "Charlie has many of the signs of a baby who has Down Syndrome."
I'll tell ya, Charlie, at the time that statement really knocked the wind out of me. I was kind of scared. I just had no idea that, in reality, the doctor was letting me in on an amazing gift God had given us.
You are a
gift
.
As we all know, it turns out that you do have Down Syndrome. You have an extra chromosome. Designer Genes.
International Dress Like a Pirate Day, September 2006
In these last three years you have been a busy guy! Most children go through stages as they learn each new skill, like sitting, crawling, babbling, walking. These things are not mere stages for you, but major
accomplishments
. Every time you learn something new, I hope you know that your daddy and I are incredibly proud of your hard work.
You've also been blessed with a miracle. You gained full hearing! We took your hearing aids off for good when you were 15 months old. With all the words you say and understand, a person could never guess that for the first 5 months of your life you could not fully hear the people around you speak.
17 Months Old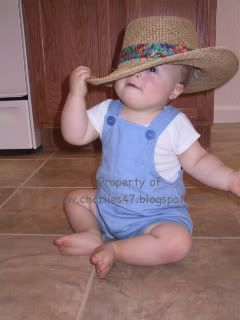 Charlie, you've brought so much wonder and good into our lives. In just three short years we have become experts on all things Down Syndrome. We have met amazing new friends. We have learned how to be advocates. We have learned how to love people who are different in meaningful new ways.
Charlie 27 Months, Calvin 1 Month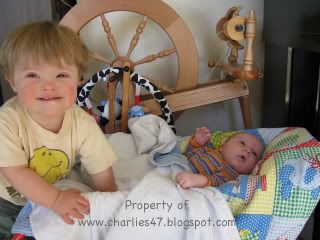 You have opened up the world so wide to your dad and me, and we only hope we can give that world to you and so much more.
Charlie, we are so very proud of you!
Happy 3rd Birthday Little Bug!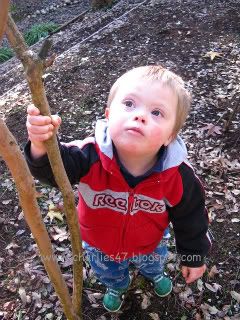 With all my heart,
Mommy