One week from today my sweet baby Calvin will turn One.
Oh Calvin! What a year it has been.
Over the next week I would like to revisit the memories of Calvin's first year. It seems only proper to start at birth.
Calvin's birth was a planned home birth. He was
supposed
to slip easily into this world in the peace of our bedroom. After the straightforward, simple birth of Charlie, we had every reason to believe Calvin would be born without struggle.
Well, we never get what we are supposed to get in life, do we? Ray and I, of all people, should know that.
Below is the not-so-straight-forward, very-difficult-indeed home birth story of our incredible little Calvin. I wrote this story and posted in this blog a short time after Calvin was born. In it I mention feeling, well, a bit traumatized by the whole thing. I will say, twelve months later, that when I think of the possibility of giving birth again, I do feel a bit of that trauma tighten in my stomach. But really, I am grateful, so very grateful, to have had our Calvin in our home. Calvin gave us a run for our money during birth. It was by far the toughest physical feat I've ever accomplished. This coming from a woman who has run 27 miles straight over mountain terrain in the Sierra for fun. I truly believe that by having Calvin at home we avoided more physical and psychological trauma had we attempted to birth him in the hospital. Just my personal belief about this one specific birth...
Anyway, here it is.
The Birth of Calvin David
Calvin David's Home Birth
March 13, 2008 @ 4:01am
8lbs8oz, 20 ½ inches long
When pregnant with my oldest son, Charlie, I was enthralled by it. I thought about and prayed for our developing baby so often it felt as if my own will was causing him to grow and thrive. Charlie has Down Syndrome, and as he grows our prayers and hard work are still invested in his development and health. Charlie has taught us much about laughter, perseverance, and how to struggle in life with grace and a smile.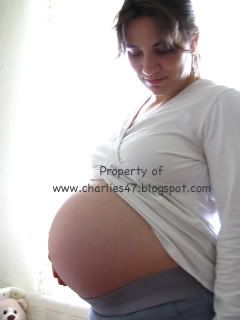 This, my second pregnancy was different. Calvin's pregnancy became a lesson in surrender. Surrender to the process of creation happening within me. I did not feel the same urgency for prayer, but a call to allow God to work without hindrance. Even Calvin's birth required, and perhaps demanded, this theme of surrender. My will had to take a back seat to allow Calvin to come into the world. This is how it went:
Labor began at 7am on March 12th as I nursed Charlie in the morning. Contractions were mild, and I continued to have them about every 7 to 10 minutes. Not knowing what would become of them, I went about the day not mentioning them to anyone. I went to a parent/teacher meeting at 8, and went on a walk with friends at 9. At 10:30 I came back home to be alone while Charlie was at preschool. I soon had some bloody show. Hooray! A concrete sign that I was in labor! I was excited and affirmed that indeed these contractions were doing something. This could be 'it.'
By 11:30 I was sure I was in labor. I called Ray to come home from work and take Charlie to Grandma's house. I called our midwives to let them know things were happening. We all expected this birth would be fairly short considering the ease of Charlie's birth.
Throughout the last 6 weeks of pregnancy this baby had his head cocked toward my left hip instead of straight down. I was concerned he was still oriented this way, so I asked our midwives to come around 5pm to assess his position. Baby was still headed the wrong direction when the midwives arrived. I was still in early labor, and after some tears of frustration about the baby's stubborn position, Ray and I decided to lie down to try to rest for a while. It was becoming clear that this was not going to be a simple 12-hour affair.
Of course laying down kicked things into a higher gear. As soon as we settled into our bed, contractions started coming on harder and faster. After ten minutes I told Ray I couldn't just lie around. So we went to the shower. I found it helpful to sing while in the shower, and it was amazing to have my husband harmonizing with me as we labored to bring our second child into the world. I labored a lot with one foot up on the side of the shower. I lunged and squatted. I talked to the baby between contractions telling him today was the day to come out, and to tuck his head into mommy's pelvis. I told him I promised to do everything I could to take care of him, and that there was nothing to fear.
After getting out of the shower the midwives assessed the baby's position again. He was still headed toward my left hip. We decided to do an internal exam to assess how labor was progressing and to get an even better idea of how the baby was positioned. I was at 4 cm and the baby was high. We decided to start filling the birthing tub (a Rubbermaid water trough) at that point, and as we waited for it to fill I labored in many different positions, hands and knees being my favorite.
A second internal exam revealed I was at 6cm. Contractions were fairly hard, and I headed for the tub. The water felt good. It was not as relieving as I'd hoped, but it was a nice distraction from the intense active labor. I spent quite some time in the tub before I felt the need to get out to stretch my legs and have a change of scenery. Baby was still high and headed left of center. Labor was very intense. I was emotional and worried. We did lots of standing, dancing, and squatting. I spent many contractions flat on my back as our wonderful midwives attempted to find out what our baby was up to.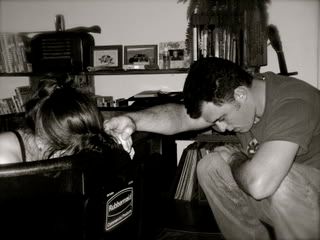 As midnight approached, I began to loss hope and patience. I hit an emotional low after the fourth internal revealed I had stalled at 8cm, and baby was still acynclitic and high up. I headed back to the tub and roared through contractions that were stronger than I'd ever experienced. I was so low. I felt like every contraction was pointless, meaningless pain. I felt defeated. In truth, I wanted to go to the hospital, but dreaded the thought of labor in the car. I really think it was at this point that I let go of my own will and fear, and simply allowed the experience to overtake me. There was no way around the pain, and no technique that could distract me from my reality. I was beyond the point of having any control over my body and experience. I could only go through it and yell, cry, and feel every sensation.
Our midwives are amazing. It was now well past midnight, and they had been supporting, encouraging, and comforting me for hours of an emotionally and physically difficult labor. Now they sat at the kitchen table, textbooks out, working on a game plan to help our baby get into position since it appeared that he wasn't going to do it himself.
Around 2am I got out of the tub and gingerly walked back to the bedroom. The plan was to manually attempt to tuck the baby's chin to his chest, and help him settle into the birth canal. During the internal it was found that I as now 9cm, almost 10, with a bulging bag of waters (the best news I'd heard in a while!). The baby was still high, but not as high as he had been in previous exams. I labored through several contractions while one of the midwives tucked our baby's chin to his chest. More importantly we were able to feel that the cord was well out of the way. With this new information we all agreed it was time to break my water and bring this baby down.
We broke the water around 3am, and I felt instant relief. It felt like an immense amount of pressure being instantly released. I also felt the baby move down. Within a few more contractions I was ready to push. I found lying down on my back was the best position for me to push, mostly because I was so tired. I pushed as hard as I could on my back and on my side. I could feel the baby slowly move down. I was able to reach down and feel the wet, wrinkled tip of his head emerge from my body. It was intense, but it felt so wonderful compared to the hellish contractions of active labor and transition. 15 minutes after I began pushing, our amazing and stubborn baby boy was born. He was placed on my chest, all purple and covered by a thin layer of vernix. His head was extremely molded. He looked like he had two different foreheads, and you could tell how he had his little head cocked funny during labor. We were amazed at our new little son. He was grunting a little, and needed a few puffs of air to help open up his lungs. Other than the grunting he was looking and doing great. The placenta came within 20 minutes of birth, and we kept "David" (he looked more like a David than a Calvin at that point) connected to his placenta for a while after that. We had a wonderful time resting in bed together while the midwives got busy cleaning up the house. I actually felt really great (thanks to a HUGE endorphin rush). I had not torn at all, and recovery was a lot easier than it had been with my first birth.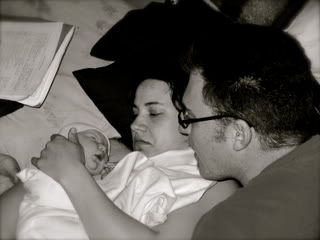 A birth educator I know has said that women don't always get the birth they want, but the birth they need. For the first few days after the birth I felt traumatized by the whole event. It seemed the only redeeming factor of the experience was that it had indeed occurred in our home and that we had a wonderful bonding time and recovery as a result. As the days continue to pass since the birth, I realize what a gift it was to be able to experience such a difficult labor in my home. At a hospital I may have requested drugs or interventions or other treatments that I would later regret (our personal desire is to avoid meds, but believe me I COMPLETELY understand why women choose to have pain relief during labor!). Birthing in my home, while very (very, very) difficult, left me with nothing to regret or rationalize. I also felt humbled. The intensity and difficulty of labor broke down emotional, physical, and spiritual walls in ways I hadn't experienced before. I feel this process of intense surrender has prepared me to mother Calvin—to let go and let Calvin unfold and go forward. Development can be a monumental struggle with Charlie. In contrast, these last six weeks we've watched our newest little guy learn all about his world with little help from us. He learned to communicate his needs, to identify each family member, to nurse, burp, poop, and to smile all with naturalness and ease. My role as a mother is not diminished by Calvin's ability to learn and grow with more efficiency than Charlie; but, it is different. I am learning each day what this means as I surrender my will and ask for God to help me parent each of my boys in His gentle way.