Yesterday was Charlie's second day at Special Ed Preschool. He did fantastic, of course!
A first: Charlie rode the bus to and from school yesterday! He was a little unsure about getting on in the morning, but the driver was able to get him all strapped in with very little fuss. My plan was to put him on the bus in the morning, then drive to the school to get him off and walk him to his classroom. I was worried he might be confused or frightened by riding on a school bus for the very first time, only to end up at school he had only been to once before. Well, it was a whole lot of worry about nothing! I got there too late to get him off the bus. He was already in his class, and when I poked my nose in to check on him, he was having a grand time reading Dr. Seuss books with one of the teachers and his new little friend L. I think he was quite happy to take a bus ride and end up at school. He loves it there.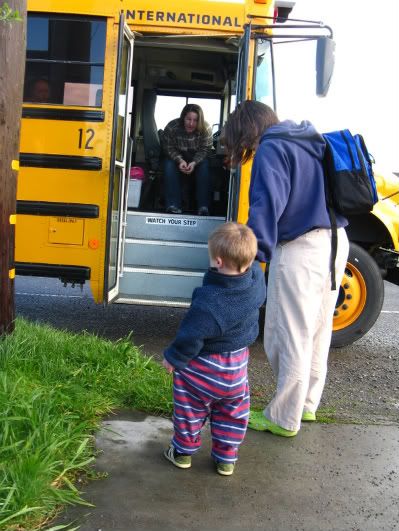 It was 'wear your pajamas to school' day yesterday. All our jammies are old and raggedy it seems, so we opted for a one piece jumper instead. It was cute to see the kids walking into the classroom yesterday looking down at their attire, feeling a little bewildered. Charlie is in a class of non-talkers, but if we could see what they were thinking I think it would have been: "I think my mom forgot something this morning... I'm still in my jammies!"
My drive to the school served a double purpose. I got to meet the speech therapist and talk to her about Charlie. She was glad to hear that he is going to a typical preschool class as well (actually, it is a day care, but he will be in the preschool class next semester). Charlie is doing so well with his language development. His vocabulary is broadening every day, he is beginning to speak in 2 word sentences. He imitates, labels, and even expresses his wants (when it comes to food!). Ray and I, and the ST all seem to wonder if the non-verbal class is the right place for him since he seems primed in the area of verbal communication right now. The biggest issue right now is intelligibility, meaning understandability. He is very difficult to understand!
The school had a special Green Eggs and Ham Dr Seuss breakfast yesterday. All the classes and grade levels met up in the multipurpose room for a big banquet. Before I left the school, I stopped in to see what Charlie thought of the event. I found him smiling and laughing and banging his hands on the table. He is having a ball! It makes me so happy to see he is enjoying this new school.
Charlie came home with some fun art work in his back-pack yesterday (is back-pack hyphenated?), including this Dr. Seuss hat.