It may have been two weeks ago (three?), but Easter is no small event in our house. Jesus is risen! In fact, we call Easter 'Resurrection Sunday' in these parts.
Well, for us, Resurrection Sunday actually began with a good old fashioned egg hunt at the park. Our church threw together an impromtu egg hunt for the neigborhood. We only had about 50 eggs, so the deal was the kids each got to hunt for 7 eggs, then they brought them back to the table to be recycled for the next wave of children. It was fun to see the older kids running all around the playground re-hiding eggs for the little ones to find.
Charlie really got in to it. He would spy and egg and shout "Egg!" and toddle up to it and stick it in his sand bucket. Calvin had a good time running around in circles in the wood-chips. I was so glad to have our neighbor, Sarah, with us to look after that little rascal!
Sunday was very special. A sweet time to remember Jesus' raising from the dead, for all time, so save whoever should believe in Him will live forever with Him! Yay! We canceled Sunday school, and had a wonderful family service. After church we went to Grandma and Grandpa's house for a big family dinner.
Resurrection Sunday is one of my favorite holidays. Nothing is so precious to celebrate, and you get to avoid the total commercial chaos that comes with Christmas. And hey, bunnies are pretty cute even if they don't actually lay eggs.
On to some photos! I didn't get any of Resurrection Sunday. We were so busy at church, and I forgot to take the camera to Grandma and Grandpa's house. All of these are from the egg hunt in the park.
The Race is On!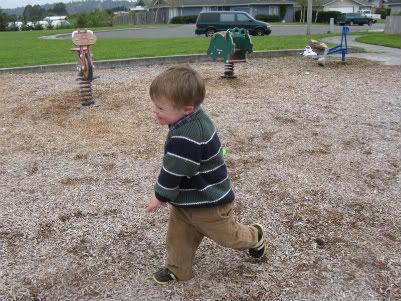 Found One!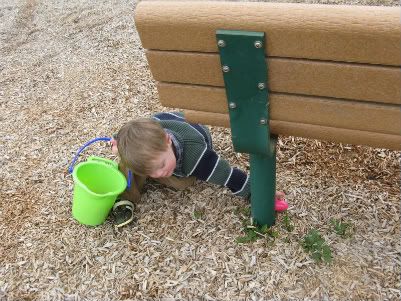 I like this.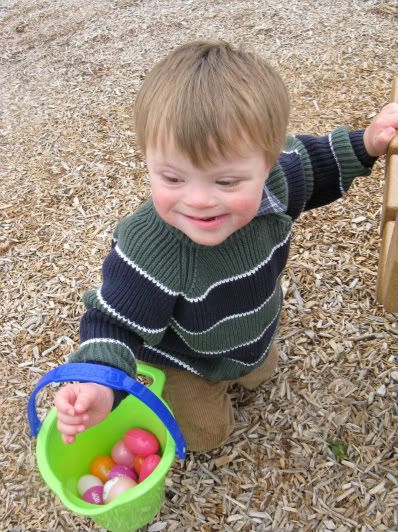 Sharing the spoils.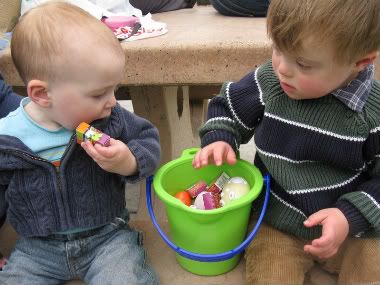 Calvin fell asleep during the ride home in the bike trailer stroller thingy. Charlie is being very tender to his sleeping brother.