Well, now we can't let this day pass without honoring our Daddy. Raymond is an amazing father. He is steadfast, he is dedicated, and he loves all of us so much. I can't think of a better father for our boys.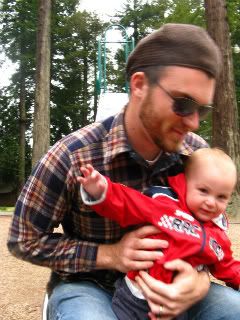 Do you know he gets up every morning at 6:30am when we hear Calvin over the baby monitor, and fetches him for me? He gets the boys set up with breakfast even while he is making his lunch for work. He is amazing.
He parents with so much creativity, and the boys feel so at home in his arms. There is nothing like watching him together with our boys, doing all the things that boys do.
Thanks, Ray, for being a most excellent Daddy.