Charlie at 11 months. Look at that hair! He was a bald baby until about 8 months when it started growing straight up on top.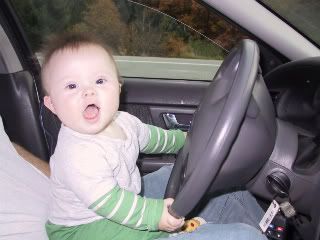 At 11 months old Charlie could roll over, sit unassisted, play a mean drum beat, and clap too. He could do a lot of fun things, but those seem like the major milestones at the time. I think our struggles at that point were communication, fine motor play, and eating and drinking. He just would not eat or drink anything! (You would never know from all the chub, though, eh?)
Boy, those days seem to have gone so quickly. I can remember thinking things like, "Will Charlie ever crawl?" "When will he be able to tell me what he wants?" "Am I going to have to breastfeed this child forever?" Now, when I begin to ponder the "will-he-ever's," I remind myself of those early days, and I know my answer is "yes." Yes, he will. Yes, he is capable. Just, in his own time.