(Okay, so this post is a little late. It should have been posted on August 28th, but what can I say, we've been busy! Two schools, two boys, lots of colds and coughs since school started. Whew!)
Charlie attends 2 preschool programs. One is a special education preschool class he attends Mon, Wed, Fri. (I would say a self-contained class, but that is not completely accurate. More like a self-contained special education school with students from age 3 to 21 years old.) The second preschool is a non-special ed preschool that is affiliated with the toddler center he has attended since he was 17 months old. You know, just your typical old preschool.
This year, to his delight, Calvin gets to attend the younger toddler class. Mommy is delighted as well because she no longer has to take him to work (which was getting just a wee bit HECTIC! LOL). Here are our boys on their first day of school.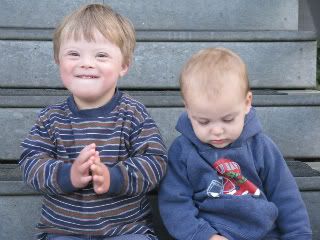 We are so pleased that Charlie has the opportunity to attend this awesome school. It gives him a chance to just be a regular kid, and indeed to
learn
how to be a regular kid with regular kid behavior to model. He does very well in the the class even without any extra supports. He follows along with all the activities and is dearly loved by the children. You would be amazed at how the kids and Charlie communicate so well, despite him not having near the language skills as they.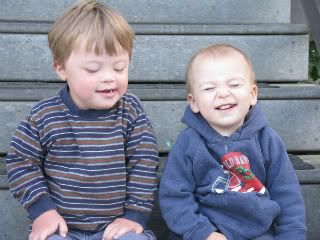 Ray and I both strongly believe there is value in children with special needs being a part of their 'natural' community (you know, the community in which they live and interact, disabilities or not). We adore Charlie's special education school and all that he gains from attending there. Unfortunately his special school is far away from our home and completely segregated. There is no opportunity for the kids there to have exposure to non-disabled peers or to develop friendships with children who do not have disabilities. (In Charlie's particular class the only people modeling language and appropriate behavior are the teacher and aids.)
Now, I realize that not all children with disabilities and differences would gain what Charlie does from being around non-disabled children. Every child is so different. But for Charlie, we are so blessed to have this regular preschool option. This amazing preschool that has gone out of their way for our son to keep him there because they
want
him there. Because they
value
who he is and
believe
that he
belongs
.