I can't say our family is all that in to Halloween. But, we play along a little bit by letting the boys get dressed up and participating in some low key fesitivities.
Today Charlie's Special Ed School hosted a costume parade and trick-or-treating at the classrooms throughout the school. So, Calvin and I made the drive to meet up with Charlie for some fun activities!
I think Charlie is saying, "Hey, what are YOU doing here?!"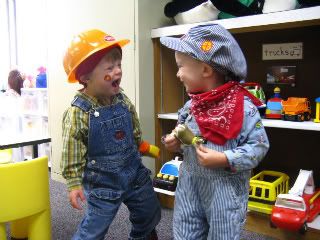 Charlie is dressed up as a carpenter, complete with hard hat and hammer. Specifically he is "Bob the Builder" a favorite character of his. Calvin is dressed as a train conductor.
We had a wonderful time meeting some of the parents of kids in Charlie's class, and going around the school getting treats from teachers and students. Many of the staff stopped me to tell me how darling they think Charlie is, and that they just love it when they get to see him around campus. Ah, they know how to make a mother's heart swell!